The Nitty-Gritty
Kitchen:
Stainless Steel Refrigerator, Stove, Microwave and Dishwasher and of course, a swing.
Living Room:
3 pleather couches, a rocker and an overstuffed chair. Also board games and a large TV in the fireplace.
Bathroom:
A sparkling clean bathroom with a shower jacuzzi combo.
Bedrooms:
Cowboy bedroom has a queen size bed. The tropical bedroom has a full size bed.
Parking:
Offstreet parking---which is a luxery in Eureka Springs!

Yes! A TV in the Fireplace!
Relax in a Living Room with 3 couches, an overstuffed chair and of course a big old fashioned rocking chair.
Where are We?
The Fun House Cottage is located in the Ozark Hills of Arkansas; nestled in the heart of Eureka Spring's Historical District. The address is 7 Washington. But we don't use street names around here very often. We are on the 62Business loop half way between the Crescent Hotel and the High School. It's less than a 5 minute walk to the Post Office Downtown. And there is a Trolley stop across the street from the cottage.
Click here & tell me when you would like to vist!
You'll have the place to yourself
At Fun House Cottage we figure that you'll wake up and eat when you want to. You'll never see us unless you need us.
If you'd rather call to make a reservation dial 479-253-2224.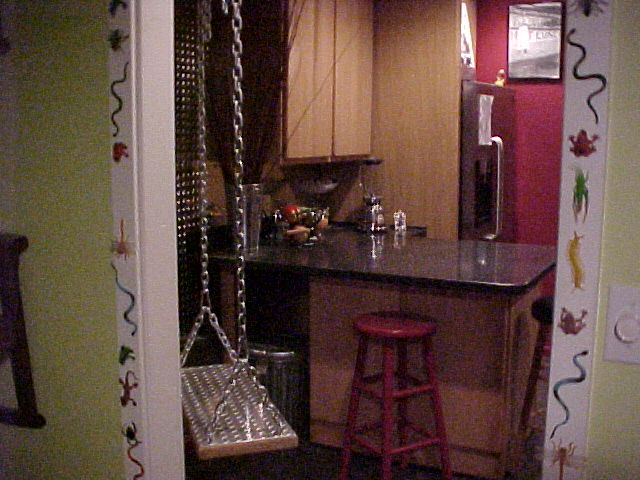 Why not have a swing in the Kitchen?
You'll probably be having too much fun to actually cook. But the stainless steel kitchen is fun to hang out in.
Send an email